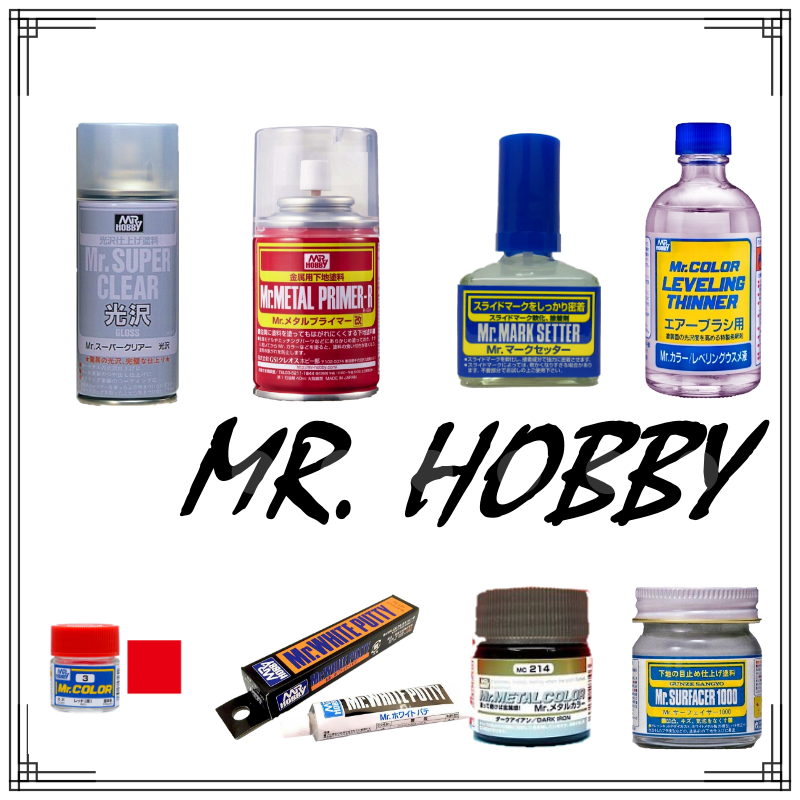 Mr. Color :
It has large number of colors and colors types which is frequent used by builders from all over the world.
Recommendation for coating:
1. Brush Painting
1-2 times of coating
2. Air Brushing
2-3 times of coating
[by mixing Mr. Color and Mr. Thinner with ratio of
1:1]
3. Semi-glossy Coating
Mix 5-10% of Flat Base to change glossy colors to
semi-glossy
4. Matte Finish Coating
Mix 10-20% of Flat Base to change glossy colors to
matte finish
Mr. Metal Color :
It can reproduce the gleam of metal which cannot be done by common paints.
How to use:
To ensure painting in the same direction, i.e. left to right, top to bottom or vice versa by using a brush.
Use gauze, tissue or an old cloths to polish after the paint is dried.
Mr. Top Coat can be applied on top of the paint in order to prevent oxidation.
Mr. Color Thinner :
It is used to thin paints as well as to clean/wash brushes. It is easy to use and mix with Mr. Color to produce desired coating.
Mr. Color Leveling Thinner :
It is perfect use for spray/airbrush applicators.
How to use:
In order to increase shininess and improves coat leveling, it is recommended to mix Mr. Color Leveling Thinner into Mr. Color at a ratio of 1:1 or 1:2.
The drying process will slow down when there is insufficient air current at the surroundings. By mixing Mr. Color Thinner with Mr. Leveling Thinner, it can help to dry the mixture to the touch roughly after 10 minutes.
Mr. Super Clear Gloss/ Semi-Gloss/ Flat :
It is a solvent-type coating agent which is used to create superior quality surfaces.
To take note:
This coating agent is specially formulated for use with Mr. Color.
It should only be used after Mr. Color has dried completely.
It cannot be used over water-based hobby colors.
It will damage slide marks/decal if applied over them.
Mr. Mark Softer:
It is a softening agent for slidemarks/decal and it has the effect of closely adhering slidemarks to curved surfaces.
How to use:
Apply quick drop to the area where the decal will be by using Mr. Mark Softer's brush.
Then, gently apply the decal over it with a soft cloth. Remove any excessive liquid.
The decal will stick perfectly even on uneven/curved surfaces.
In event there is air in between the decal and the model surface, prick the decal with a needles or toothpick and insert Mr. Mark Sorter through the gap. The decal will then stick down firmly.
Mr. Mark Setter:
It works together with Mr. Mark Softer in order to give decals greater adhesiveness. It makes work easier to affix decals to models.
Mr. Metal Primer Spray:
It acts as undercoats for metal models and parts so that Mr.Color is usable for surfaces.
Mr. Base White:
It is useful for making a black, red or other dark-colored surface white. It uses special pigments to completely hide the base color and aids application of detailed finishing and top coats. It can also be used to hide small imperfections.